Avoid the 'tech neck' by performing these simple mobility and stretch exercises as frequent as possible.
Neck and shoulder problems are today the most common problem area because of our screen lifestyle.
This short session can be done at your desk or at the end of your day and is designed to relieve the tension that we all get from spending too long at our computer screens and keyboards!
The video gives you easy stretches and mobility exercises to relieve tightness and to avoid postural issues. This routine will also improve posture as it works on the tightness around the chest and shoulder area.
Subscribe below for the video demonstrating how to release that familiar tension in your neck and shoulders.
See all my online workouts!
If you liked this neck release, you will love my selection of online video classes, including stretch and core, Pilates and Ballet Barre.
See more
Another taster video for you to try!
Start with a Stretch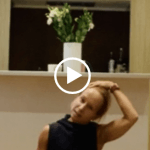 This is a quick 15 minutes mobility stretching session for you to enjoy today!
Yes please