New to Pilates?
Anne-Mette's 6 minute video is a good introduction to Pilates for those new to the discipline. In it she explains the background and benefits of Pilates exercises.
Watch the full video here
See all my online workouts!
If you liked this hamstring release, you will love my selection of online video classes, including stretch and core, Pilates and Ballet Barre.
See more
Another taster video for you to try!
Neck & Shoulder Release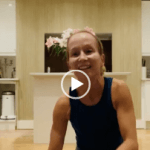 This is a easy 9 minutes to release the tension from your neck and shoulders. Particularly good for all those who spend time looking at screens!
Yes please